Hats off to our TY students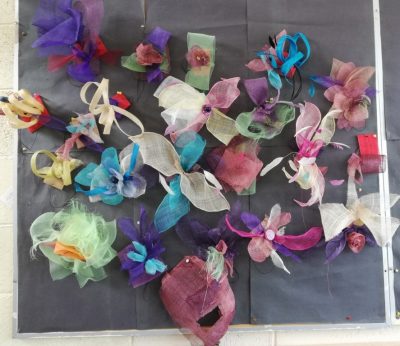 Our TY students had the experience of making their own hats with award-winning miliner Suzie Mahony from Loughrea, Co. Galway on Thursday 5th September. Their work will be on display in the main hall of the school over the coming weeks. Well done to all!
Welcome 1st year students
We welcomed 76 new first year students on 26th August and for the first time in 15 years we have three first year classes. Students are finding their feet very well and settling in to their new school, trying out new activities and making new friends. Well done to all on a very good start!
All Ireland Fleadh Success
Congratulations to Mark Dunleavy (3rd year) on his recent success at the All-Ireland Fleadh. Mark won the All-Ireland title in Whistle Slow Airs (12-15 years) competition. Mark also competed in the Piping competitions.
Congratulations to Conor McDonagh (2nd year) on his success in the All Ireland Flute (12-15 years) competition. Conor achieved 3rd in this competition.
Well done to both students – we look forward to hearing plenty of music from you this year!
Congratulations to our Leaving Cert class of 2019
Congratulations to our Leaving Cert class of 2019 on their successes and wonderful results on Tuesday 13th August. We wish you well in the next chapter of life's journey.
Texaco Art Winner
Congratulations to Julia Rychta (2nd year) on her success at the recent 65th Texaco Children's Art Competition. Julia achieved a Special Merit Award for her work entitled 'Ozzie'. Julia will be presented with her award later this month in Dublin. Well done!