Digital Champions May 2018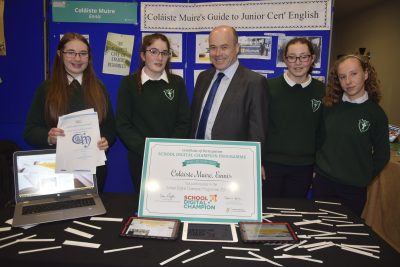 Coláiste Muire, Ennis, School Digital Champions with the Minister for Communications, Climate Action and Environment, Mr Denis Naughten, at the Showcase for Digital Champion Projects, in Dublin on May 9th.
Pictured are Colaiste Muire Digital Champions: Ciara Miesle, Maria Jones, Kate Harty and Katie Arthur.
Puppet Show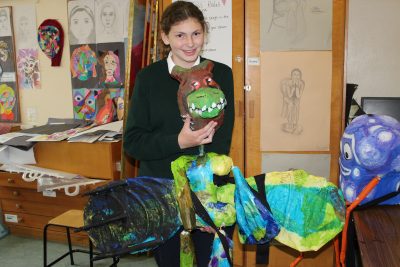 Second year Art students at Coláiste Muire this year took part in the Pinocchio Project, which was funded by the NAPD's Creative Engagement Fund. The programme runs annually and seeks proposals from schools to bring an artist-in-residence to work with members of the student body on an artistic project outside of the mainstream curriculum.
Artist and Puppeteer, Emma Fisher (Beyond the Bark Theatre Company) and the students' Art teacher, Ms Lowney, ran five workshops with thirty second year students between March and May, which culminated on May 21, in a performance for their families and school stakeholders. The students learned the skills of puppet construction as well as shadow-puppetry, story boarding and puppeteering.
National Career Skills Competition
Congratulations to Éabha Fitzpatrick from Coláiste Muire, Ennis, pictured above, at the awards ceremony for National Career Skills Competition 2018, which took place at the Clock Tower, Dept. of Education and Skills, Marlborough Street, Dublin on May 9th.
Éabha won 2nd Prize in the Transition Year section and received Dr. Dre Beats and a Presentation Cup for her submission on Aeronautical Engineering.
Well done also to the Coláiste Muire students who were commended; Aoife Daffy (Highly Commended) Michelle Power, Amy Browne, Maryam Rahman,  Finia O'Brien, Shona Duffy and Regina Yeung.
History Trip to Derry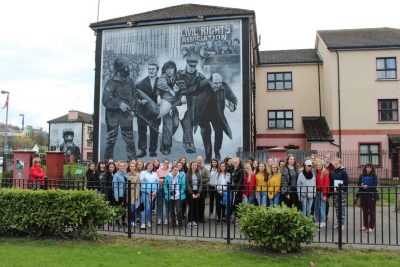 Forty four senior History students from Coláiste Muire and their teachers travelled to Derry recently, where they visited among other sights, the walls of Derry, the Bogside murals and the Apprentice Boys' Memorial Hall.
The trip was interesting and enjoyable. Thanks to Ms Hooke for the work she put in to organising the trip this year and to Ms Sheil, Ms Casey and Ms Harrold who accompanied the students.
Deutsches Theater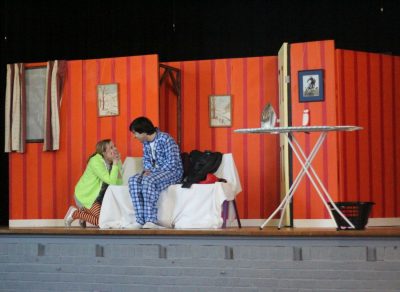 On Monday April 23, Coláiste Muire German students enjoyed a German play 'Hausarrest' (You're grounded!) when Onatti Productions, a German touring theatre company visited the Dánlann.
The play which lasted 50 minutes was performed entirely in German by two German actors. There was plenty of humour and audience participation in this lively production, which was followed up with a question and answer session. The German was clear and accessible throughout and enjoyed by all. Danke schön to German teacher, Ms Shalvey for all her work in organising this event.
Press Pass Awards
Congratulations to Veronica Hanrahan, TY2, pictured above receiving her Press Pass award.
In 2012 NewsBrands Ireland devised a new Newspapers in Education initiative aimed at TY students and designed to support its own, and the Government's youth literacy objectives by getting more students reading newspapers.
A key element is the national writing and photojournalism competition. Schools select the best work in the 5 categories (news, sport, features, comment and photojournalism)
Congratulations to Veronica Hanrahan, TY2, who won a Press Pass Award for her Photo Journalistic piece, 'Standing Together'. The awards ceremony took place on the 26th of April 2018 in Twitter Ireland's Headquarters in Dublin.
At the awards ceremony, the organisers revealed that there were over ten thousand entries in this year's competition, which further underlines Veronica's achievement in the competition.  Thanks to Veronica's teacher Dr Richie Hayes and Ms Niamh O'Regan TY co-ordinator.
Annual Fifth Year Public speaking Competition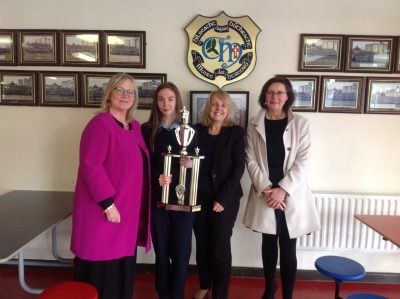 Well done to Ava Glynn who won the annual fifth year Coláiste Muire, Public Speaking competition. Ava is pictured above with Ms Pound (principal) and past pupils Ms Mairead Doyle and Ms Tara Godrey.
Double silver success for Coláiste Muire at all Ireland Basketball finals
Coláiste Muire's junior and minor basketball teams have secured promotion to division B after reaching the finals in both the first and second year competitions, held recently in the national arena in Tallaght.