Greenhills Student Wins Tech Competition
Greenhills student Joy Njekwe with Rachel Akano and Margaret Akano  have won the world's most prestigious technology competition for girls with an innovative app they designed to help people whose families have been impacted by dementia.
The girls chose their project after losing a family member to Alzheimer's. Sisters Margaret and Racheal Akano attend the Sacred Heart School while Joy is a proud student of Greenhills .
Their hope is that their app, which with the help of Microsoft is expected to launch in the US and Europe shortly, can help other families affected by the disease.
The app, it's called Memory Haven, aims to support patients living with dementia by helping them with memory loss challenges such as recognising friends and relatives as well as communicating their needs through speaking.
It is a fantastic achievement and the app will bring hope to the lives of many. Congratulations Joy.
Read below an article written by Joy on her experience.
Technovation is an international app competition focused on encouraging girls to get into STEM by solving social problems in their area. This year over 1,500 teams entered from across the world and it was announced on August 14th that my friends and I  had won not only the Senior Division Grand Prize but also the People's Choice award with our app Memory Haven. Memory Haven is an app designed to support and promote the independence of people living with Dementia while assisting their friends, families and caregivers. It currently has many features in development for example – a photo wallet which uses AI to tag photos so people living with Dementia can recognise family and friends and play photos back as slideshows, a music playlist feature which creates playlists based on user's emotions, memory games, reminder alerts and much more. The app is set to launch in the last week of October on both google play and apple store.   
The competition's format changed this year because of COVID-19. Normally, the regional final is held at Microsoft Dream-Space in Dublin and the final is held in America – (in San Franisco or California) and finalists have an all-expenses paid trip over there in August but this year it was all held online and for the finals we had to do a live pitch in front of three judges, who are very high-up there in the tech field. Though it was held online, it was still cool because there were cyber-security workshops that we were all able to attend for example.  
After winning, life has been a little hectic. We have done interviews with the likes of RTÉ Radio, RTÉ News2day, TodayFM, BBC and many more over the past few weeks and have been asked to speak at Future Human – one of the first major tech events to go hybrid in October. We have also been potentially nominated for a couple of awards and have a few other side projects planned for later in the year. Overall the experience has been unreal, and I'm excited for what is to come.  
1st years 2020 first day. A socially distanced break!
TY Walk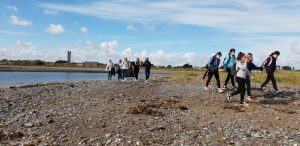 The TY Bonding Walk took place on Wednesday 23rd September. The students, their form teachers, Gaisce leaders & TY Coordinator; in two groups; completed a 10k walk from Baltray to Clogherhead or vice versa, stopping off at Seapoint for a picnic lunch. The weather was fantastic, the scenery  magnificent and everybody loved the fun, friendship and fresh air! A great start to the year ahead!