Presentation Ballingarry are Munster Champions!!
Ballingarry 1-10
Scoil Phól Kilfinane 1-09
Ballingarry started against the strong wind but got a vital score by Ryan Cranitch in the opening minutes of the game. Against the strong wind there was some great defending by Conor O'Brien and Jack Cleere but eventually Scoil Phól made a break and got a crucial goal. Ballingarry then missed two clear cut goal chances which they hoped would not come back to haunt them. Thankfully Ballingarry finished the half strongly with a point by Eoin O'Dywer. The first half finished 1-5 to Scoil Phól and 5 points to Ballingarry.
The start of the second half was end to end hurling with Ballingarry scoring a skilful goal finished by Ryan Cranitch. This motivated the Ballingarry boys to push on for the win with Aidan Fitzgerald getting in on the action with a well taken point. Scoil Phól tried to get back into the match but missed two key opportunities for a goal and a point. Ballingarry punished them for that with Vincent D'arcy, Simon Blackmore and Eoin O'Dywer getting a point each. The defending was brave at the end by Michael Ryan as we had to see out a one-point victory. Final Score was Ballingarry 1-10 to Scoil Phól 1-9. Top scorer for the day was Vincent D'arcy (4 points) and man of the match was Conor O'Brien. Well done to all of the players and Mr Alan Egan (Manager) and Eoghan Pollard (Mentor).
Presentation Ballingarry: Danny Broderick, James Coady, Michael Ryan, Thomas Walton, Ben Ruttle, Conor O'Brien, Jack Cleere, Cian Cranitch, Simon Blackmore, Vinny D'arcy, Billy McGrath, Aidan Fitzgerald (capt), Ryan Cranitch, Eoin O'Dwyer, Shane Burns. Sub: Bill Cuddihy.
Report by Éabha Hogan & Ciara Mullally (TY Future Leaders students)
Basket Ball
Well done to our U19 boys' Basketball team who will compete for the Basketball Plate in January having defeated Comeragh College.
College Awareness Week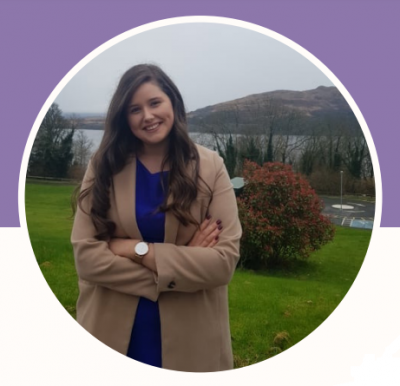 As part of College Awareness Week, we were delighted to welcome back past pupil Marie Lyons, who is currently working with the Union of Students in Ireland. Her role is Vice President for the Border, Midlands and Western region. She gave 4th and 6th year pupils insightful and realistic view point on college life. Marie welcomed questions from the students and answered a range of questions from money management to clubs and societies available in campus' across Ireland.
Senior Cirizens Party
This year marked the 4th year of the TY involvement in the annual Christmas senior citizens 'party and carries on a very worthwhile tradition, began in 2016 by the T.Y. Young Social Innovators group. This commitment to cherishing the senior members of our community is an integral part of our ethos and we are delighted to be invited to be involved.
Seinn 2019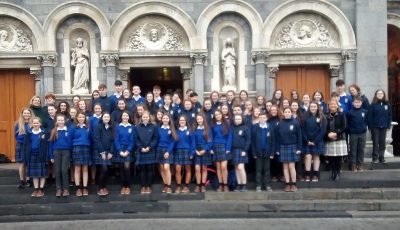 On December 5th, our choir of sixty-three students were part of an evening of song and reflection in Thurles Cathedral. Now in its 4th year, this evening brings students from across the Diocese of Cashel and Emly together, under Director, Ian Callannan for a very special evening. We congratulate all our soloists and readers on their participation in the event.
Poetry Aloud
Congratulations to Maura Tobin on reaching the final twenty-eight out of over one thousand seven hundred contestants in this year's Poetry Aloud Final. As always Maura was outstanding in her delivery.
St. Vincent de Paul Fundraiser
As Christmas approaches, our LCVP class and junior branch of SVP have been very active in ensuring we do not forget those in our community who need a little help. Hampers are being prepared, a befriending coffee morning is being organised and a giving tree is almost laden down with special gifts donated by staff and students.
Christmas Newsletter
Ms. Cahill, Principal together with Deputy Principal Mr. Moran and all the staff wish all our students, their families and all friends of Presentation Ballingarry a very happy, blessed and safe Christmas. Please click below to view the Presentation Ballingarry Christmas Newsletter.
Presentation Ballingarry Christmas Newsletter