Presentation Secondary's Junk Kouture Entries 2020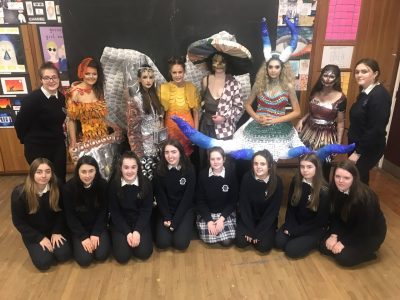 The Art room in Presentation Secondary School Castleisland was a hive of activity in preparation for the Junk Kouture competition this year, with five teams consisting of fifteen Transition Year students entering Junk Kouture and one 5th year student Ian O Neill from St. Patrick's Secondary School.
Junk Kouture is a country wide competition in its tenth year this year, which is open to secondary school students where they get the opportunity to design construct and model their own creations, all made from recycled, once used materials.
This is the fourth year Presentation Secondary has entered the competition reaching the Southern Regional Finals in University Concert Hall Limerick all years and reaching the Grand Final in the 3 Arena last year with Ian O Neill.
This year from Presentation Secondary designs include 'I'm Peeling Good' a creation made from dried orange peels , 'Hung Up On You' used hangers and suit bags, 'Stuck In Time' made from broken jewelry, old clock parts and cans , 'Zero Gravitea' made from out of date tea bags and milk cartons and also 'Out of CTRL' a design made from used computer parts and keys from a keyboard. Last years grand final contestant Ian O Neill (Currow) who studies Art in Presentation Secondary is back with a bang this year with his creation 'Sofanum' made entirely from an old couch.
'Stuck in Time' modelled by Leah Pidgeon, with team mates, Maggie O Callaghan and Saoirse Mc Carthy, and 'Sofanum' by Ian O Neill, were successful in getting to the Southern Regional Finals in University Concert Hall in UL on the 6th of March last, which saw eighty regional finalists battle it out on the catwalk.
STEM at Presentation Secondary School, Castleisland
Students at Presentation Castleisland have been fully immersed in the STEM experience this year. To date, they have been involved in a range of exciting activities including workshops based on chromatography, LegoWedo and Bee Bots. We also have taken part in the Vex Robotics competition, space and Science week, and Maths initiatives. Some students have also had the opportunity to attend the BT Young Scientist Exhibition, Dreamspace workshop as well as a trip to the BioPharma Facility in Cork. Four lucky first year students will have the opportunity to attend the Salters Chemistry Festival held in University College Cork on April 29th, 2020, where they will showcase their Science skills by participating in a series of science challenges.
We held a ScifFest@school competition this year, 41 innovative Science projects were judged by Tim Regan from SciFest and four teachers from our school. Each group complied all their research, results and conclusions onto a poster which was presented to the judges on the day. Our students showed great initiative throughout this process and the Science Department is extremely proud of their work. SciFest Judge, Tim Regan reported 'Your students were excellent, their projects interesting, scientific and very well communicated. They are a credit to Presentation, Castleisland.' These projects and more will be presented at SciFest@college in IT Tralee later in the year and we wish then every success in the competition.
Throughout the year, our fifth year students have benefitted greatly from this programme as we were able to invite a number of guest speakers to the school. Dr. Fiona Boyle form AgriTech, Katherine O'Sullivan a female engineer and Susan Enright lecturer at IT Tralee. All these powerful women are leading the way in STEM and so inviting these speakers offers our students the chance to hear about the many opportunities that careers in STEM presents and hopefully opens up avenues which will encourage our students to follow in their footsteps. Our 5th and 6th year chemistry classes participated in a workshop called "spectroscopy in a suitcase" ran by PhD students from UCC on March 4th 2020. Demonstrators walked our students through high tech equipment used worldwide to help solve crimes.
In addition, Presentation Castleisland organised two showcase days. The first day on March 5th 2020, was aimed at primary school students who each showcased three projects from different STEM areas. Our 1st year STEM role models acted as judges,  presenters and guides throughout the day. An award ceremony was held where each student received a certificate of achievement and each participating school was awarded with a very impressive STEM kit, which contained important and useful equipment such as beakers, graduated cylinders, magnets and electricity kits, all which can be used in everyday lessons. The kit also included an iPad for documenting the project as well as for scientific research. We had many special guests on the day Linda (DigiWiz), Emily Brick (Athena Analytics), Aoife O'Brien (Kerry SciTech), Susan Enright (IT Tralee) and Claire O Riodran (PDST). These strong, independent women are such an inspiration to the younger generation as they are leading the way in STEM.
Our second day which is aimed at our senior students will be held on April 30th 2020. This showcase invites third level academic centres such as NUIG, CIT, LIT and IT Tralee to Presentation Castleisland to give our students the opportunity to gain more information about the different STEM paths available to them. We have also invited different STEM companies to share their experience in the workplace. On the day, we will have a panel with representatives from different colleges and companies, directed by representatives from IT Tralee. During this session, each person will tell us the story of their journey though STEM.
Students and teachers, marked Engineers week 2020 with an exciting Wonderstruck workshop on 6th March in. The event was facilitated by Wonderstruck, a company which has worked with schools for more than 15 years exploring Science in a hands-on, creative and spectacular way. The presenter, Will, entertained our 1st and 2nd year students with two workshops, a compressed air rocket workshop and a fan-powered car workshop with the help of our 5th year students. During the day, our students learned about forces, the nature and role of friction in machines, simple electrical circuits while also developing more holistic learning skills, such as teamwork, design skills and problem-solving skills which are essential for a career in engineering!
All these activities are possible due to the much extended and elaborate programme that we are leading. The 'Digital School Excellence Fund' aims to develop a more positive attitude to STEM subjects amongst females at secondary level; to enhance students' digital literacy skills, particularly in the area of Maths and Science; to increase the uptake of Chemistry and Physics at senior level; and to increase the number of female entrants into STEM courses at third level. We are extremely proud to be leading this project and hope for continued success as we move into the third year of the programme.