Goodbye to our Sixth Years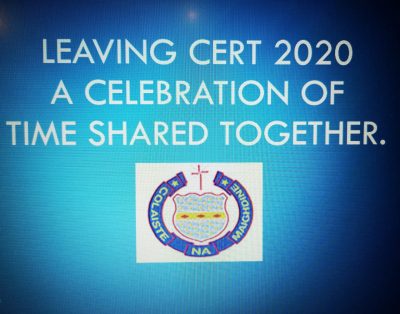 The final days of 6th year are usually a time of nostalgic assemblies and emotional goodbyes. In no way could the class of 2019/20 ever have anticipated that they would be putting on their uniforms for the very last time on a random Thursday in the middle of March.
Conscious that this resilient group of girls are missing out on several rites of passage, the combined community of the school joined forces to celebrate the graduation of the LC group of 2020. A virtual celebration by staff, joined by 6th years, 5th years, and parents, was hosted and recorded on Zoom and then shared with students. It was both a moving and reassuring expression of the real sense of community embodied in the shared relationships in our school. Commending the girls on their resilience during these unprecedented times, School Principal Ms Orla Bolger provided the class with reassurances that they will have a 'real' graduation ceremony, when we are permitted to do so, and that each girl will sign out for the final time, officially marking the end of her time in here in Presentation Secondary School.
Good luck to the class of 2020!
Transition Year Virtual Graduation Night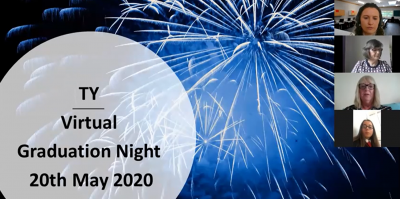 Wednesday 20th May marked the end of a year of new experiences, challenges, and living outside of their comfort zone as our 4th year students graduated from transition year. This year's group had the added challenges that recent months have presented, but have met these head-on, completing their exams on-line, or over the telephone in the case of the Irish oral exam. They also engaged in our TY traditional 'box' interview over the phone, with each student presenting a box filled with material reflecting classwork, workshops, trips, work experiences, and other experiences from the year, and answering a series of questions relating to these.
This year, the night took a very different format, as we had our first ever virtual TY Graduation night which again, had been hosted and recorded on Zoom, and sent to everyone to enjoy at 7.30pm on Wednesday 20th May, when the actual graduation was to take place.
Both staff and students were amazed by this formidable piece of work, which showcased the highlights of the year, and celebrated the achievements of an inspirational group of girls, who were honoured by the presentation of various awards and certificates across a wide variety of academic and extra-curricular activities.
The ceremony featured speeches made by students themselves, school principal, Ms Orla Bolger, who commended the 'I get to' attitude of the group (as opposed to 'I have to'), and year head Mr Alan Barber, who also spoke in glowing terms about the girls.
Remotely, but together, we anxiously awaited the announcement of the recipients of highly coveted awards such as the 'Spirit of Transition Year', and 'Excellence in Transition Year', and can only imagine that there was an eruption of applause as we learned that Ciara McCabe and Jerely Pembele had been selected to receive the 'Spirit' award, and that Leah Keane and Opeoluwa Olajide had been selected to receive the 'Excellence' award.  Each graduate will be presented with a book of certificates containing up to seventeen certs, highlighting the wide range of opportunities that transition year students get to experience during transition year in our school, while at the same time maintaining an academic focus, on our return to school.
An entertaining  pre-recorded performance of a medley of songs from their recent musical 'Hairspray' at the end of the virtual  ceremony left us all feeling that in spite of the strange, and sometimes lonely environment that we have found ourselves in recent weeks, the Transition Year class 2019/20 graduated the year on a high.
Other Good News
We were also delighted with recent good news that the school is to awarded our fourth Green Flag on the Transport Theme. Well done to Mr. Clancy and the Green Schools Committee for the hard work they have put into this project over the last two years.