Tara Ramasawmy qualifies for the SIAB Schools' International Cross Country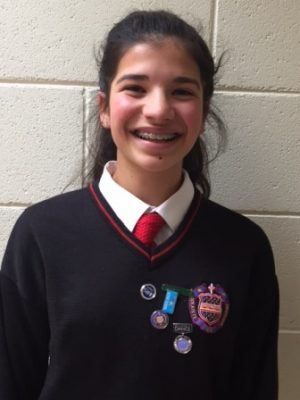 Congratulations to Tara Ramasawmy who has qualified for the SIAB Schools' International Cross Country in Nottingham on Saturday 24th March 2018 after coming 9th in the All Ireland School's in Carriganore on Saturday 10th March.
TY Musical
Congratulations to our TYs on a very successful musical 'The Addams Family'.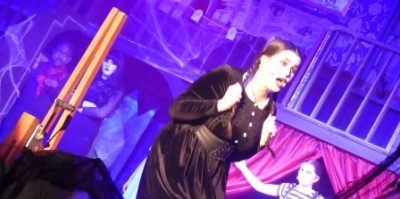 Lycee Jules Rieffel, St Herblain visit Presentation Waterford


Last month we hosted students and teachers from Lycee Jules Rieffel, St Herblain. Whilst here they attended classes, visited Waterford Crystal, walked the Greenway and enjoyed a night of musical entertainment at the TY musical The Addams Family.
WIT President's Award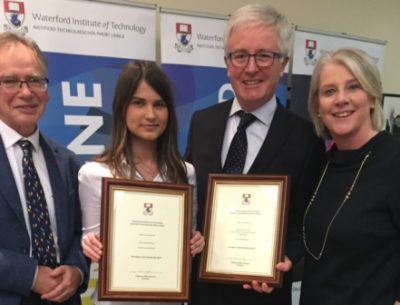 Past Pupil Dominika Kuzniar was a recipient of the WIT President's Award. Deputy Principal Ruth Gallen and Guidance Counsellor Declan Murphy were at the ceremony this week in WIT.
Active Historian 2018
The Active Historian Competition has been running in the school since 2006. All 1st years are asked to make a model that represents a period in History that they have studied in 1st year. This competition is kindly sponsored by the school Tuck Shop. The entries include models of Newgrange, Early Christian monasteries, Roman aqueducts, dolmens, Neolithic weapons. Parents and 6th class students from the Presentation Primary school attended an exhibition of the entries.
Once again the standard was extremely high, and the overall winner was Jane Reinl for her wonderful life-size model of a Roman Soldier. Second prize was awarded to Shannon Flynn for her amazing Stone Castle and third prize wen tot Ruby Ahearne for beautiful Ardagh Chalice.