PPE Production – GoFundMe Page
Since SMC teachers Liam Murphy and Bob Reaney started their production of visors for healthcare and frontline workers a few weeks ago, they have been inundated with requests for more.
The materials technology teachers came up with the idea as a response to a general plea for PPE to protect essential workers from the Coronavirus. Sancta Maria had the equipment – a laser cutter and 3D printer –  lying idle as students were at home, so they decided to make a contribution by producing face visors.
So far they have made 1,300 visor units, which have been distributed to many locations throughout the county. Now thanks to local agencies they are in possession of more 3D printers which will speed up production but need to finance the corresponding cost of materials.
Please help us to allay some of our rising expenses to meet demand for this vital equipment.
Services in Mayo which have already benefited from our PPE include: Mayo University Hospital, The Sacred Heart Hospital, Louisburgh Order of Malta, Cuan Chaitriaona Nursing Home, Louisburgh Primary Care Centre, Claremorris Primary Care Centre, Claremorris Garda Station, Malvern Medical Centre, Westport Garda Station, McBride Home Westport, Mayo Physiotherapists, Moy Ridge Nursing Home, Hollymount Nursing Home, Cheshire Ieland, Castlebar Garda Station, Ballinamore Nursing Home Kiltimagh, Queen of Peace Nursing Home Knock and many local pharmacies and GP clinics.
Click here to visit our Gofundme page
Many thanks!
Teachers,
Sancta Maria College
Louisburgh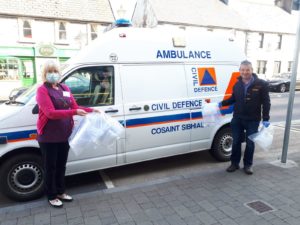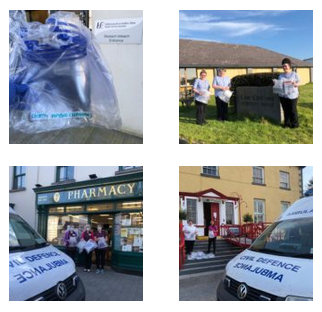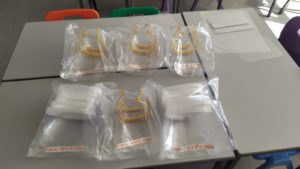 Sancta Maria College Louisburgh 100 Year Anniversary Anthem
In November 2019 Sancta Maria College Louisburgh opened our new building and celebrated our 100 year anniversary.
Over two afternoons teachers Catherine Conway and Niall Conway led a group of 18 students in the creation of a School Anthem. The students created everything themselves. The melody, harmonies and lyrics all came from them and was inspired by what an Anthem for our school in Louisburgh would look like to them. The invitation to create an Anthem was extended to the whole school, but it was those 18 students from 1st- 5th year who took on the challenge.
They felt it was important to honour the story of the two Mercy Sisters who arrived in Louisburgh in 1920, inspiring the 'congregation' at the time to 'trust in them' and work with them to educate their children.
The students wanted to wish all their fellow students of Sancta Maria 'courage', which was most suitable, as the project to create this Anthem asked for a song that could be sung and believed in for another 100 years and beyond by Sancta Maria College students. As Catherine McAuley said, "God gives us the courage to begin tasks that are longer than our lives."
At the celebration itself 16 students sang the anthem. Some of them were involved in its creation and some of them just wanted to be part of its performance. They sang with no musical backing, the Anthem and its lyrics standing for itself.
In future years, the plan is to teach this Anthem to all future Sancta Maria students and tell them the story of its creation and what the meaning behind it was for the students who created it.
Below are full lyrics to this school anthem.
Click here to view video of first performance.
Sancta Maria College Louisburgh Anthem
Sancta Maria
Misericordia
Siúracha na Trócaire
Sancta Maria
In the land of Gráinne Mhaol
Between Clew Bay
And the Holy Mountain
A school was built on strong foundations
In 1920 the congregation
Put their faith in us
Tagaigí go dtí Foinse an Oideachais
As we look to future tales
We hope to find our new life's purpose
We wish our fellow students courage
Sancta Maria
Misericordia
Siúracha na Trócaire
Sancta Maria
Sancta Maria