Well-being Week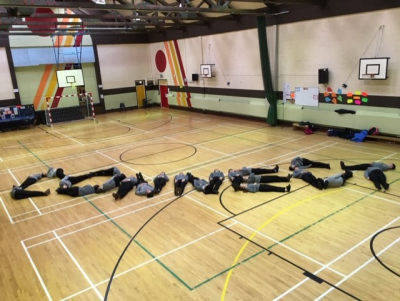 To begin well-being week the focus was on Connect. Thanks to the group of 5th years who participated in the connect activity and to Ms. Sproule for organising the activity.
Screen-free Challenge
Congratulations to the winners of the screen-free challenge who each won a free healthy lunch voucher. Many thanks to Ms Mc Mullin who co-ordinated the challenge and well done to all the students who participated.
Mindful Colouring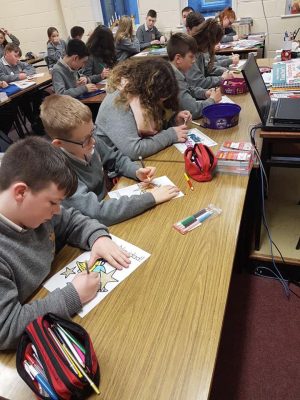 Ms. K. White's 1st year Spanish class doing some mindful colouring for well-being week and making their classroom colourful for the festive season in the process. Well done to all involved.
Games Room
Thanks to Ms. Holmes and Ms. Mc Cullagh who ran games and activities for 1st year students during wellbeing week. The aim was to encourage students to connect in a fun way. Well done to all involved.
Wellbeing Fair
As part of well-being week we held a well-being fair in the college. Many thanks to all the organisations who attended to help us raise awareness of the support that is available in our local area. All our students were given the opportunity to visit the stands and talk to the representatives who gave out information on what their service has to offer.
Leaving Cert Applied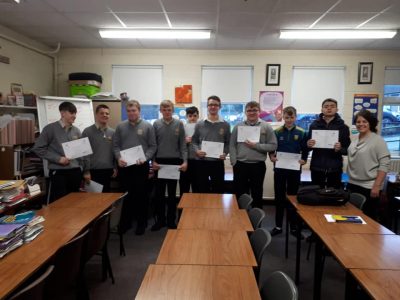 Well done to our LCA classes who received their certificates  for participating in a 4 week workshop on Life skills for Schools Programme. This module forms part of their Social Education curriculum. Many thanks to Coleen Nichols from Aware Ireland for facilitating the programme and to their teacher Ms. Holmes.
Sport News
Horse Riding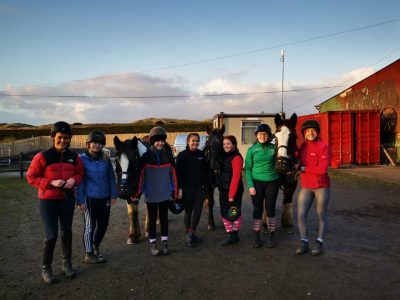 Ms. O Driscoll and Ms. Gorman took five of the 3rd Year students to Bundoran Equestrian Centre for a horse riding lesson. Some of the students were beginners and some were more experienced riders. The girls really enjoyed the day and were very lucky with the good weather and the scenic views.
Golf
Congratulations to our golf team who won the team event in Dunfanaghy recently, with Joey O'Hora winning the overall prize and Daniel Crawford winning the category prize. Well done to all involved and thanks to Mr. Rodgers who travelled with the team.
Athletics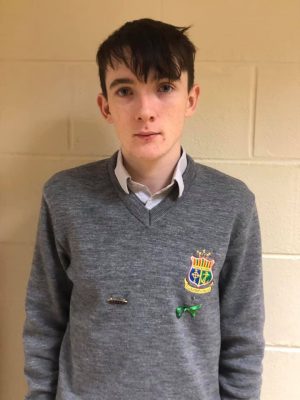 Congratulations to Daniel Mc Hugh 2nd year Enda who represented the school in the All Ireland Combined Athletics event held in AIT Athlone. He finished a fantastic 5th position overall with a score of 2619 points. Daniel competed in 5 events: 60m Hurdles, 200m, 800m, long jump & the shot Putt.
Well done Daniel.
U15 Boys Gaelic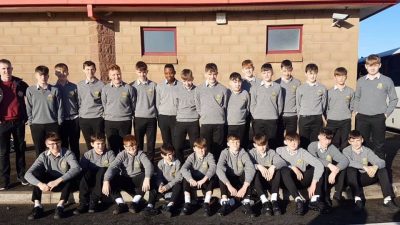 Congratulations to our U15 boys Gaelic team who defeated Magherafelt 1-8 to 6-4 in Owenbeg. Well done to the team and to their coach Mr. Mc Ginty.
Science
Three teams of students from St. Columba's  took part in the Senior Science Quiz which took place in Letterkenny. A special congratulations to Anna Quinn Kilcoyne, Pete Byrne and Andrew Heward who took 3rd place. Well done to all involved and to their teachers Ms. O' Malley and Ms. Gorman.
Open Day and Open Evening
Open day
We held our annual open day for the local primary schools and welcomed close to 350 students. The students had the opportunity to try out life in secondary school for the day and to sample many of the subjects which will be on offer at the college. We hope they all enjoyed their day. Many thanks to all the staff and students who helped out and presented to the 6th class students.
Open evening
We were delighted to welcome parents and students to our 'Open Evening' in the college on 26th November.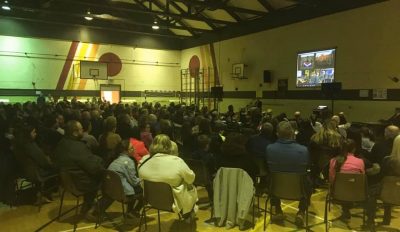 Digital Champions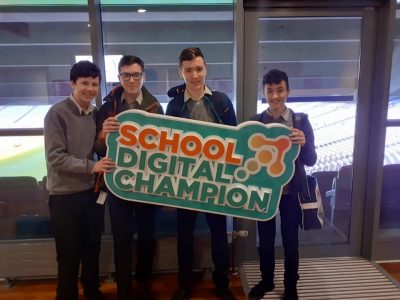 Our School Digital Champions attended workshops  in Croke Park recently to help them promote the use of technology in the college. Well done to Sean Livesley, Derek Harkin, Dermot Harkin, Cormac Gallen and their teacher, Mr Mc Glinchey.
Literacy – Word of the week competition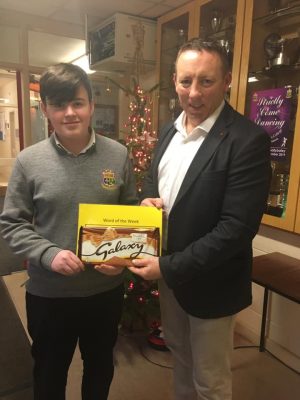 Congratulations to Scott O'Brien, winner of our 'Word of the Week' competition which is run to help promote literacy. Well done to Scott and to all the other students who had five correct answers.
Book Club/Library Visit
As part of St Columba's Book Club, Shane, Davitt and George took a trip to the Library. They met Eva the Librarian who talked to them about the Library and discussed books they have read and what they like to read. It was a very enjoyable morning. Shane left the Library with 12 books so he will be busy over the Christmas break! Thanks to Ms K. Diver who runs the book club in the college to support literacy.
Poetry Awards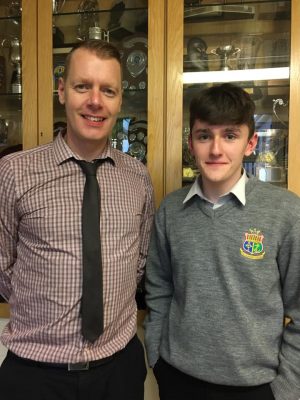 Congratulations to Ciaran Alexander who was awarded 3rd place in the senior category of the Allingham Arts Festival poetry competition recently for his poem 'The Beaches of Sicily'. Well done to Ciaran and his English teacher Mr. Atcheson.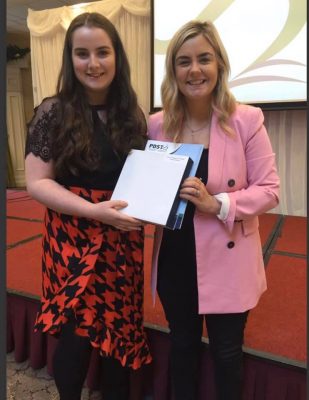 Congratulations to Aisling Cannon who was awarded 2nd prize overall in the Junior category of the PDST National Poetry Awards for her poem entitled 'Malala Yousafzai' A fabulous achievement! Well done to Aisling and her English teacher Ms. Neilson.
Rotary Leadership
The final of the Rotary Leadership competition took place in Enniskillen. Congratulations to Sarah Sweeney who is one of three students who were successful and who will now attend the European Parliament in Strasbourg in February. Well done to Sarah and to her teacher Ms. C. Cooke.
Future Stars – Hurling
Congratulations to Oisin Marley who was selected for the 2019/20 Queen's University Future Stars Hurling team at an awards ceremony held in Belfast on 16th December. It is an incredible achievement to be chosen as one of the top 15 players in Ulster Schools. Oisin was outstanding during the trial process and received the number 10 jersey for his performance. He was the only player from a school outside of Antrim and Down that was selected for the award.Oisin has represented his school, club and county at the highest level and everyone at St Columba's is extremely proud of him. Well done Oisin. Many thanks to Ms Coulter who travelled to the awards ceremony on behalf of the college and for her work in promoting hurling and camogie.
Player of the year
Congratulations to Jamie Harris, TY who was awarded Finn Harps u-15 player of the year for the season.
DCU Scholarship Awards
Congratulations to Oisin Mc Granaghan and Ciara Phelan, past pupils, who received entrance scholarship awards in Dublin City University (DCU) on 3rd December, based on their excellent leaving cert results. Ciara is studying for a BA in Global Business (Canada) while Oisin is studying for a BA in International Relations. Well done to both of them on their achievements to date and we wish them the very best of luck in their future studies.
UCD Entrance Scholarships
Congratulations to Jack Meenan and Shane Rowan, past pupils, who received entrance scholarship awards in University College Dublin on 13th November, based on their excellent leaving cert results. Jack is studying for a Degree in Economics and Finance while Shane is in Actuarial and Financial Studies in UCD. We wish them the very best of luck in their future studies.
Trinity College
Congratulations to Danny Browne who received an Entrance Exhibition Award in Trinity College following his excellent results in his Leaving Cert exams. Well done to Danny on his achievements to date and we wish him every success in his futures studies.
Engineering Project Award
Congratulations to Ben O Currain from last year's Leaving Cert class whose Engineering project was highly commended at the national Engineering Technology Teachers Association Conference in the Mullingar Park Hotel this afternoon. Well done to Ben on his achievements and to his Engineering teacher Mr. Donnellan. Best of luck to Ben in his studies in University College Dublin.
Maynooth Academic Scholarships
Congratulations to Tara Burke past pupil who received an academic scholarship based on her excellent leaving cert results in Maynooth University. We wish Tara the best of luck for the future. Many thanks to Mr. Sweeney who travelled to Maynooth for the ceremony.
Student Voice
Petition for action
Hannah Mulcahy, Student Council and Global Citizenship Committee member, presenting Mr. Rowan with a petition signed for the attention of Mr. Joe Mc Hugh, TD, Minister for Education and Skills. The petition reinforces the action taken on Climate Strike Day and on the recommendations of the RTÉ Youth Dail on Climate Action. Our students are asking the Minister to add a module on guiding students on climate change as part of the core curriculum. #stcolumbaschangingtheworldalittlebit
Climate Change Strike
'Green Friday' saw St Columba's students focus on saving the Earth as opposed to Euros, when they took part in positive actions both in and out of school. Close on 1000 signatures were collected in a petition asking the Minister for Education to introduce changes to the curriculum that would better enable young people to tackle Climate Change. A group also attended the Climate Change Strike in Letterkenny Market Square and were joined by students from across the county. Two of our students addressed not only the assembled crowd but engaged passers-by and shoppers. Well done to the Global Citizenship Committee and the Student Council for their continued hard work on this and other issues.
#stcolumbaschangingthe worldalittlebit
Thanks to Mr. Mc Crea who assisted the students in their activities and travelled with them to Letterkenny.
RTE Youth Assembly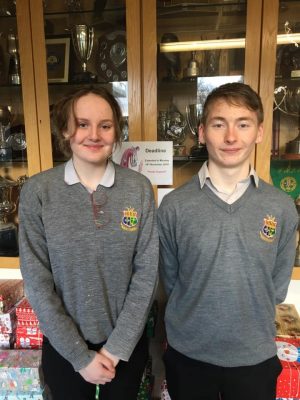 We were delighted that two of our students, Evan Carron-Kee and Isabel Conaghan, were selected to be two of the 157 delegates at the RTÉ Youth Assembly on Climate at Dáil Éireann on Friday November 15th. Both students impressed the Assessors and the Final Judging Panel to be selected from almost 1000 applicants – it's something both their families and all in the college can be very proud of. The Dáil proceedings were broadcast LIVE from Leinster House on RTÉ 2 and on News Now on 15th November.
Well done to our students who took part in Euroscola on 7th November. They did us all proud and managed to take in the sights in Strasbourg before making the return journey.
Medjugorje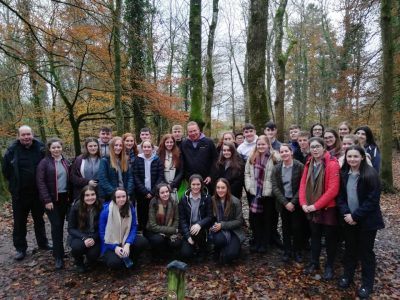 We were delighted to welcome Fr. Sean Crowley and Fr. Francis Ferry to the college who have accompanied our students on their pilgrimage to Medjugorje over the last number of years. The students and staff who travelled on the pilgrimage last year got an opportunity to meet in the Oratory, have something to eat in the canteen and go for a stroll in Drumboe Woods. The college is delighted that we have been given the opportunity to travel on the pilgrimage again next August.
Careers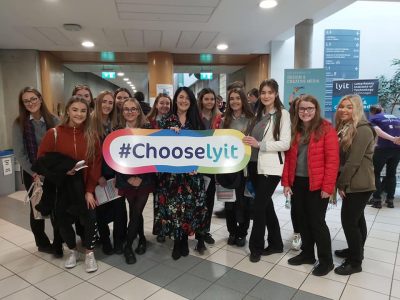 A large group of our 6th years attended LYIT open day. It was great for the students to meet so many past pupils from St Columba's who are current students and also some who are now LYIT staff. Many thanks to Ms. Sproule, Ms. Mc Cullagh, Ms. Mc Nulty, Mr. Rodgers and Mr. Phair who travelled with the students.
Debating
Our Concern Debate Team members – Caitlin Thompson, Derek Harkin, Dermot Harkin, Cormac Gallen, Ciaran Alexander, David Gillespie and Sean Livesley represented the college at a debating workshop in Letterkenny recently. The workshop was hosted by Concern's chief adjudicator Patsy Toland and explored many humanitarian and ethical issues facing our world today. Congrats to the team who won the workshop debate session.
Our debate team  put in a great performance in a match against Loreto Grammar School, Omagh but unfortunately missed out on a 2-1 victory. Shane Alexander, Derek Harkin, David Gillespie and Ciaran Alexander argued against the motion 'The E.U needs an army' in a lively and enjoyable debate. Thanks to their teachers Ms O' Donnell and Ms. O' Driscoll.
Public Speaking
Well done to Luke Duffy, Oran Lafferty, Lúcas Meehan and Áine Sweeney who gave compelling speeches at the Europe Direct and Donegal Country Council Soapbox Competition. The students argued against the motion of this year's competition, 'Climate change is not my problem'. Thanks to Ms. O'Donnell who worked with the students.
Musical
Our college musical, 'Calamity Jane' ran for six very successful shows in November. Well done to all the students who took part in the many aspects of the production – the cast, chorus, backstage crew, make up, set painters and senior prefects. We are very proud of our very talented students and what they achieved. Many thanks to all those who helped and supported the students – Caroline Bell (Director), Ms Nicola Roache (Music Director), Ms Eithne Sproule (Choreographer), Cathal Dorian (Backstage manager) and all members of the staff who played their part in making the musical a success.
Home Economics
Festive Fun
Mrs. McMullin's Junior cert HE students getting into the festive spirit with some Christmas baking.
Mini Meringues
Whisking Cookery – Mini Meringues made by 1st Year Home Economics students in Ms. Timony's class – lots of skill, colour and fun and they all passed the 'over the head' test!!
Open Evening
The display in the Home Economics department in preparation for open evening.
Visit to Harvey's Point Hotel and LYIT Killybegs
The 2nd group of 6th year Home Economics students travelled to Harveys Point and LYIT Killybegs. The group were given a warm welcome and tour of the fantastic hotel facilities by Sheila (past pupil) and General Manager Noel Cunningham. Students learned about the importance of the HACCP system in the food preparation industry. The tour was followed by a tasty 3 course meal at The Millenium Training Restaurant in LYIT Killybegs, including very tasty desserts! Many thanks to Ms. Gately and Ms. Mahon who travelled with the students.
Spanish
Three teams of Transition year Spanish students visited our local National School St. Mary's National School to deliver Spanish lessons to two 6th class groups and one 5th class group as part of an initiative developed for TY students. Well done to the three teaching teams and to their teachers Ms. Coulter and Ms. K. White.
Geography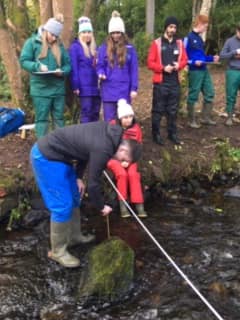 Ms. Mc Nulty's leaving certificate geography class travelled to FSC Ireland Lissadell, Co. Sligo for their geography field trip. The students enjoyed their day out and successfully completed all their measurements. Thanks to Ms. Mc Nulty and Mr. Tennyson who travelled with the students.
Carol Singers
Well done to our carol singers performed in Mc Elhinney's, our local department store in support of Concern. Many thanks to all the students and their teacher, Ms E Cooke.
Christmas Craft Fair
Another successful  TY Christmas Craft Fair took place in the college on 12th December. Well done to all the enterprising students who showcased their products. The decor, carol singing and fruit punch added to the festive spirit. The fair was organised by the Transition Year Events mini-company. A special word of thanks in particular to Ms C Cooke, Ms S. Diver and Ms. K. Diver, the driving force behind our enterprising projects, and to the team of staff members who worked tirelessly to make the event a huge success. Well done to all involved.
Christmas Charity
St. Vincent de Paul Hampers
Many thanks to the school community for their kind and generous donations for our St Vincent de Paul food appeal. All food hampers will be donated to local families in our community this Christmas. Thanks to Ms Cowan for organising the SVP food appeal again this year. Many thanks also to all the helpers and to Ms O Driscoll for staying after school to pack the hampers.
Sleep out for Pieta House and North West Simon Community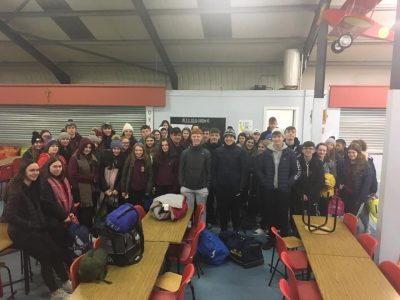 Our TY's got a taste of life on the street during their sleep out. Well done to all who took part and to Mr. Mc Crea for organising the event. All funds collected will go to the North West Simon Community and to Pieta House, Letterkenny.
Shoebox Appeal
3rd year Class Deirdre took part in the shoe box appeal for Christmas 2019 through their CSPE class.
Thank you to all staff and students who donated a box. The class held a bake sale in school to cover the distribution costs of the boxes which was a great success and presented the cheque to TeamHope. Thanks to class Deirdre, their teacher and Co-ordinator of the project Ms. K. Diver and all who contributed to making it a success.
Mary's Meals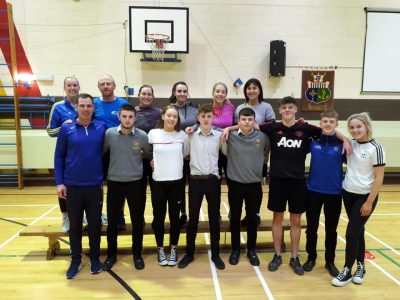 A group of 5th years and their teacher Ms. Roache raised €116  for Mary's Meals through a Dodge Ball challenge they organised at lunch time. €15.60 will feed a child for the school year so the money will be put to good use. Thanks to all those involved and a special Congratulations to the students who beat the teachers.
Christmas Charity events in aid of our local charities
Hang Tight
Class Deirdre and their teacher Ms. O'Driscoll organised a 'hang tight' competition, challenging students and teachers to see how long they could hang from a bar.
Musical Chairs
Well done to class Ciaran and their teacher Ms. S. Diver who organised a very competitive musical chairs.
Bake Sales
Well done to all who ran bake sales – to class Damien and their teacher Ms. Culkin, Class Erin and Emma and their teachers Ms. E. Cooke and Ms. Boyle.
Obstacle Course
A teacher versus student obstacle course race was held in the hall. Well done to Mr Mc Glinchey and class David who organised the event and a special mention to the teachers who won the race.
Mr. & Mrs.
Class Brid 6th year and their teacher Ms. Mc Nulty organised a fun Mr and Mrs competition involving both staff and students. Well done to all involved and to Amy and Jamie who won the competition.
Wellie Walk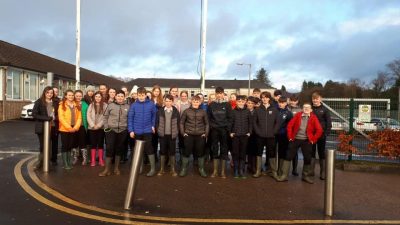 Class Ann and Aisling enjoyed their Wellie walk through the woods as part of the Christmas Charity Appeal.  Well done to all who took part…they had a "wellie great time". Many thanks to their teachers Ms. K. Diver and Ms. Mc Govern.