BT Young Scientist & Technology Double Winner!
2019 started with a great success story for one of our students. Niamh Doherty (4th year) was awarded 2 awards at the BT Young Scientist & Technology awards ceremony. Niamh was awarded 1st place in the Chemical, Physical & Mathematical Sciences Category and she was also awarded the Irish Science Teachers' Association Award for her Physics project which greatly impressed the judges.
Niamh's project re-examined a long forgotten experiment, first published by American Professor Alfred Mayer in 1878. His experiment, 'floating magnets' was at the time used as an analogy for molecular structures. Niamh successfully re-created and extended Mayer's results and found a modern day analogy; 'Coulomb crystals' which are the subject of recent scientific research. Well done Niamh!
Open Schools for Open Societies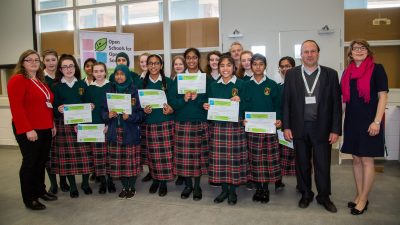 In February fifteen first years, with Ms. Dunne (OSOS school champion) attended an Open Schools for Open Societies (OSOS) showcase event in Dublin City University and received a certificate of participation from the Greek consortium responsible for driving OSOS across Europe. DCU have partnered with the Greeks and are championing the participation of primary and secondary schools in Ireland. St. Joseph's College is considered an 'accelerator school' because of the work completed under a project called "Bees Need Trees, Trees Need Bees." The project attempts to raise the awareness of the importance of bees as pollinating agents, encourage the school community to become more conscious of their role in developing a culture of sustainability and finally promote personal stewardship of the environment by getting the school community growing. We have had a lunchtime staff-tasting of produce grown on school grounds, got our dig on planting 300 bulbs – daffodils and some snowdrops and one of our 4th year classes is leading a project with 150 first years called Eat Shoots of Peas! – Well done Ms Dunne! A very impressive achievement.
Achieving Quality in Teaching and Learning
In two separate ceremonies hosted by UCD and Maynooth University, 15 of our students were celebrated for achieving an A Grade in the 2018 Junior Certificate Business exam. The high achievers were Rachel Beagan, Lorna Byrne, Niamh Doherty, Ali Dunne, Imogen Gibb, Noyal Joice, Maria Kelly, Maria Quaraishi, Alicia Rooney, Aoife Smullen, Guste Venslovaite, Caoimhe Ware, Ayesha Zafar, Emilia Woryko and Lilly Worrall. Well done girls on a super achievement! Thanks to Maynooth University School of Business and UCD School of Business for two memorable events.
Celebrating School Sporting Achievements
2019 has been a very successful year so far for many of our sports teams.
These include our U14 soccer team who sailed through to the quarter-finals of the Leinster A Cup after some very convincing wins.
Our Senior Soccer Team and our U15 Soccer Team, who are both competing and winning games at the moment.
Our Junior Gaelic Football Team who reached the Dublin Semi-Finals after some terrific victories.
Our U14 Camogie Team is unbeatable at the moment.
Our 1st and 2nd year Basketball Teams have both clocked up victories in recent weeks.
We also have a number off athletes who have been successfully competing in Cross Country competitions in recent weeks.
A very big thank-you to all of our very generous co-operating teachers, without whom, none of the above would be possible.
Recognising Student Personal Achievements
Congratulations to Lara O'Byrne in 6th year who received the Athletics Association of Ireland, Juvenile Dublin Sports Star of the Year 2018 Award. Lara also became the National Indoor Pentathlon Champion at the Indoor Nationals in January. She also holds the Outdoor Heptathlon title 2018 & National title for 100m Hurdles 2018. Well-done Lara – What amazing achievements!
Well done to past pupil Niamh Farrelly who made her senior debut for the Ireland Ladies Soccer Team recently! Well done Niamh we are very proud of you!
Congratulations to Olivia O'Brien (3rd year) who represented Ireland in the Downhill Slalom at the Trofeu Borrufu International Ski Competition in Andorra in February.
Debating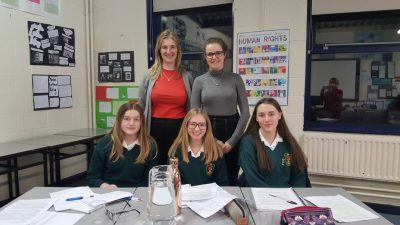 Congratulations to the junior cycle students who won the second round of the Gael Linn Irish Debating Competition COMÓRTAS DÍOSPÓIREACHTA AN PHIARSAIGH and will now advance to the regional finals! Well done girls, we are very proud of you!
Tours
Our French Tour departed with forty students from 2nd and 4th
49 very excited 5th Year students headed off on our annual Ski Trip to Italy.
A group of 22 equally excited 4th year students headed off to Madrid for a four day Spanish Trip.
All students arrived back safe & sound and buzzing with enthusiasm for the cities and cultures they had experienced.
School Initiatives
Our Language Hub continues at lunch times a few days a week. This is an initiative, where students are welcome to pop into the Language Lab (and bring their lunch) to practice their French, German, Italian, Spanish or Irish.
Our Maths Support Centre is on each Tuesday and Wednesday during lunchtime. Students of all year groups are encouraged to drop in with any maths problems. There is a team of willing Students and Teachers who would love to help them.
Our Saturday Study classes continue every Saturday from 9 – 12. St Joseph's students from all year groups are welcome to attend. This has been a great success so far, with encouraging numbers attending.
As the weather is improving and we are all very conscious of the benefits of regular exercise, some of our teachers have initiated a Lunchtime Walk for students. All students are invited to join the walk everyday at lunctime. It is approximately a 20 min walk around the local area. The weather is fabulous at the moment so lets get our runners on and start walking!
Open Night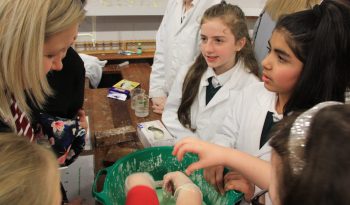 We held our school Open Night this month and what a great success it was! The large attendance was very encouraging and it was lovely to meet so many future pupils and their parents. We are very proud of all of our students who were superb ambassadors for our school on the night. All subjects were represented, by teachers and students. Our young visitors really enjoyed their visit and we look forward to welcoming them into our school in the coming years. A lovely evening and well done to all involved!
Business Students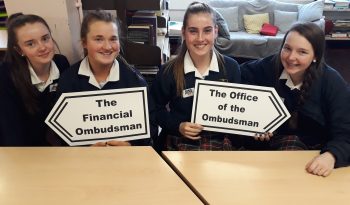 Our 1st Year Business students, assisted by our 5th Year Business students held a Consumer Rights Workshop in the school library this month. As consumers we can all be vulnerable to intentional or unintentional breaches of our rights.The very clever students guided staff and students through the process of making a legitimate complaint and they also gave advise on agencies that can help. What a great idea! The well informed students also advised visiting parents and students during our School Open Night. Well done to all of the students involved and well done to Ms Ward and Mr White for organising this very useful event.