Two Stalwarts are feted in St. Leo's College!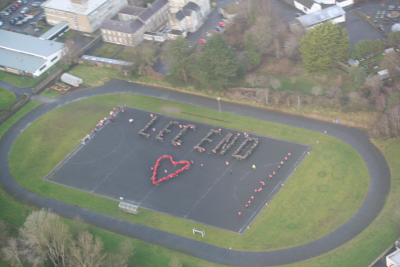 Shortly after ten o'clock last Thursday morning a helicopter circled the campus of St. Leo's College and soon landed on the school track to ecstatic applause from the staff and students. Indeed, the school community had organised themselves in a formation that spelled out the word "legend" which was punctuated by a heart made up by the school's first year group.
A very important person soon alighted from the helicopter – the Principal, Ms. Clare Ryan who is soon to retire from St. Leo's College. In the New Year Ms. Ryan will become the new CEO of CEIST, (Catholic Education Irish Schools Trust).
The school community proceeded to further surprise their Principal with a whole-school presentation assembly in the school Gym. In-coming principal Ms. Niamh Broderick warmly welcomed members of the Board of Management, Parents' Association, former teaching staff, Bishop Denis Nulty, friends of St. Leo's College and members of Ms. Ryan's family. Ms. Broderick announced that the school was gathered to celebrate the retirement of Ms. Ryan and popular PE and Biology teacher, Ms. Anne Rennick. The school was taking time out to recognise and celebrate the commitment, personal dedication and educational legacy of both retirees.
The event commenced with a tribute from the Chairperson of the BOM Ms. Anne Aherne who spoke about the consistent hard work and dedication of Ms. Anne Rennick over her 34 years in St. Leo's College. Tributes were paid to Anne's contribution both on and off the school playing field. Anne has served as Year Head within the school community for many years and led an annual skiing trip which has been a highlight in the school calendar year for Students. Deputy Principal, Ms. Niamh Broderick reflected on the legacy of Ms. Rennick. She recalled how Anne joined the staff in 1985 and was a phenomenal hockey coach. Principal, Ms. Clare Ryan paid tribute to Anne's excellence as a teacher and recalled her ready smile, positive and solution-oriented approach to issues which she always resolved through building relationships. She thanked Anne for the great gift of her friendship and wished both Anne and her husband Niall every happiness and success in the future years.
Sixth Year student, Petra Robinson delivered a wonderful tribute on behalf of the student body saying she will be "so missed by the students" and concluded by making a presentation to Anne during a standing ovation.
In her farewell comments, Ms. Rennick explained that she felt very lucky in life to have attained a place in St. Leo's College. She remarked on how the atmosphere of the school was amazing and is created by the beautiful synergy between staff and students – "It is this energy that keeps you going". She was proud of the ethos which celebrated not just academic excellence but the holistic development of the students. She thanked her colleagues for their support and friendship over the years. She finished by advising her students "to work hard, aim high and follow your dreams as those dreams can come true…and keep up your sport!".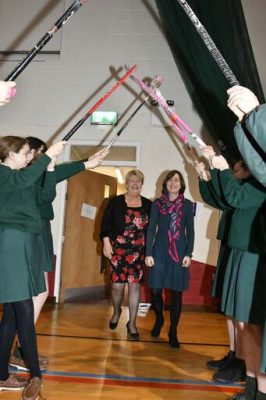 Then Chairperson of the Board of Management, Ms. Aherne led a series of tributes to Ms. Ryan.  She remarked that "nothing would do justice to the story of Clare Ryan in St. Leo's College". Clare started in St. Leo's College in 2001 and was the first lay principal after Sr. Kathleen Kennedy. "When she first arrived very few people knew what to expect from this woman from St. Mullins. But very soon people found out! Nineteen years later you won't find anyone even loosely connected with education who doesn't know Clare Ryan or "Clare Ryan's school". Ms. Ryan has a work ethic that the rest of us can only aspire to. During her tenure she built capacity in the school and has ensured that St. Leo's College is a completely inclusive school."
Ms. Aherne explained that, Ms. Ryan has always put her role as principal first and she paid a fulsome tribute to the Ms. Ryan's family, Laurent, Matthew and Luke who have had to share her with over one thousand "sisters".
Tribute was paid to Ms. Ryan's passion to ensure every student fulfilled their full potential by building the best possible school infrastructure. Ms. Ryan has been unstinting in her commitment to providing the best possible educational experience for her students. In fact it was remarked several times during tributes that she has dedicated herself 24/7 to St. Leo's College.
All speakers acknowledged that Ms. Ryan has not only exhibited exemplary leadership skills within St. Leo's College and Irish education generally, but she is synonymous with the values of empathy, compassion, ideas, vision, integrity, innovation and service. All of these values are reminiscent of the each of the founders of the CEIST schools.
Incoming Principal, Ms. Niamh Broderick recalled the arrival of Ms. Clare Ryan nineteen years ago. She reiterated how renowned Ms. Ryan is in Irish education circles and on a personal level thanked her for mentoring her over the years.
She reminded everyone of the scale of Ms. Ryan's professional achievement to date. Not only has Ms. Ryan served as a principal with integrity and steadfastness, and upheld the academic standards of St. Leo's College, but she has always had an eye on each student as an individual. Within national education she has served with distinction, taking an active role in training school leaders, serving as CEO of the National Education Welfare Board, designed Codes of Behaviour for schools nationwide and currently lectures in Educational Leadership in Maynooth University. She wished Ms. Ryan every success in her new role as CEO of CEIST which has oversight for 107 post-primary schools.
Head Girl, Ellen Phiri speaking on behalf of the student body described Ms. Ryan as "fearless". She recalled her as a principal known for her kindness, integrity, honesty, strong moral values and a reputation for treating everyone equally.
The whole school assembly was punctuated with a selection of musical performances and songs by students.
The celebration concluded with a blessing by Bishop Denis Nulty who paid tribute to Ms. Ryan's leadership of the school and the hospitality and welcome that was an ubiquitous part of the school's atmosphere. He said that she had been a "full Principal" and wished her every success at the helm of CEIST.
In her own speech Ms. Ryan reflected on the responsibilities of being a principal. She remarked that she has been immeasurably blessed in her personal and professional life. She reminisced about her appointment as principal in 2001 and her realisation that she had arrived in a "magnificent school". She recalled how she had worked with great people and did an honour roll call of all the Sisters of Mercy she had encountered during her time in St. Leo's College. She thanked all her staff for their continued good work and paid tribute to the Deputy Principals who had excelled themselves with the organisation of the event.
Ms. Ryan paid a beautiful tribute to her husband Laurent Decaux and her sons Matthew and Luke for their constant support in her professional life. She thanked all the parents over the years for entrusting their daughters to St. Leo's College and extended a fulsome thanks to all Boards of Management and Parents' Associations, past and present.
She concluded that it is her great joy to hand over the reins to Ms. Niamh Broderick and Deputy Principals, Ms. Imelda Whelan, Mr. Ian Curran and Ms. Emma Dwyer.
World Holocaust Forum 2020 
| | |
| --- | --- |
| Monday 27th January marked the 75th anniversary of the liberation of Auschwitz and is an international Memorial Day. The History department led by Ms. Kate Redmond and a group of Senior History students created a fitting display to commemorate Holocaust Memorial Day. The display outside the school staffroom chronicled the events that led to the liberation of the prisoners at Auschwitz in 1945. Students and staff were invited to inscribe their own reflection on a tear drop and to drop it into a communal pool of tears. This was a very meaningful way for the whole school community to remember all those who perished in the holocaust. | |
Goal News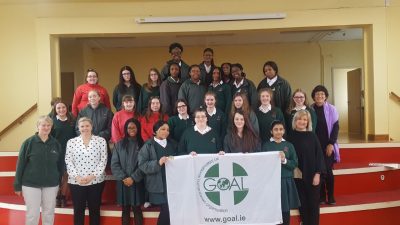 St. Leo's College Goal Committee was thrilled to welcome Mura Tierney, Development and Education Officer to speak about her work in the school's Assembly Hall last Thursday morning. Mura facilitated an inspiring and interactive workshop which focused on the primary objectives of GOAL. Her presentation also focused on the emergency and long-term work the organisation is involved in countries such as, Syria, Ethiopia and South Sudan.  Great thanks to Ms. Sheila Coady for her impeccable organisation of the event.
Youth Chinese Test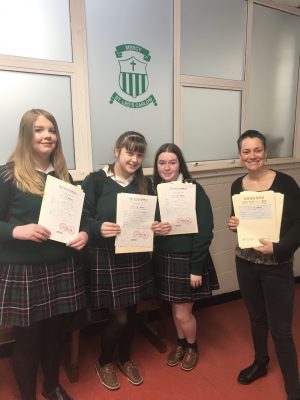 Some of our delighted Transition Year students and their teacher, Ms. Claire Tierney receiving their YCT1 Chinese exam certificates. The girls completed a three-month Chinese starter module in Chinese language proficiency.
Farm Visit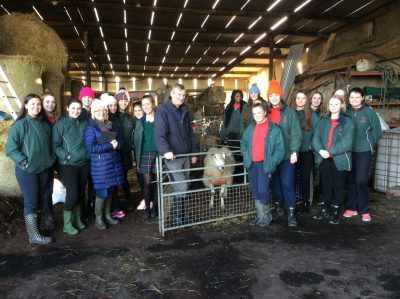 Sixth Year Agricultural Science students and their teacher Ms. Nuala Kennedy visiting local pedigree sheep farmer, Larry Barrett at his farm in Tinryland.
Walton's Music for Schools' Competition
Junior Irish Applied Mathematics Teachers Association (IAMTA) Junior Problem-Solving Competition 
St. Leo's College was delighted to host the Junior Irish Applied Mathematics Teachers Association (IAMTA) Junior Problem-Solving Competition on Thursday evening last. The event saw over thirty teams from schools across the South East participating in this fun event. Congratulations to  Meanscoil Gharman, Kilkenny College and St. Kieran's College who were winners on the night. The evening was expertly coordinated by Mathematics Teacher of the Year, Ms. Sarah Tallon.
French Debating
St. Leos's College were thrilled to defeat Blackrock College in the Quarter finals of the Alliance Française National Debating Competition last week. Khansa Yousif, Kayleigh Morris, Eve McGlinchey and Lolia Akinyemi staunchly defended the motion that 'Sportspeople are not good role models'. Khansa won Best Speaker on the night and all four girls represented the French department, St Leo's and indeed Carlow, with outstanding fluency and flair. They are now looking forward to getting started on semi-final preparations. Félicitations.
Bank of Ireland Money Smarts Challenge – Financial Wellbeing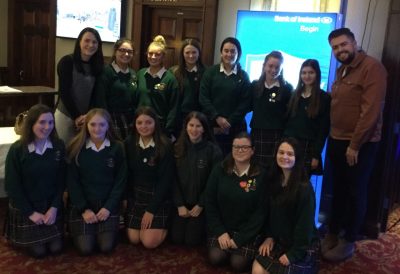 On Tuesday 14th of January twelve 5th year Accounting, Business and Economics students attended the Money Smarts Challenge which was organised by Bank of Ireland in the seven oaks hotel, Carlow. Bank of Ireland launched this challenge aimed at equipping secondary school students across the country with financial wellbeing skills. It was designed in conjunction with Business Studies Teachers and financial wellbeing experts. The students completed a two hour workshop on financial wellbeing with topics such as spending, saving, earning, credit, debit, interest rates, online shopping, foreign exchange, risks, entrepreneurs, budgets, investment and wage slips. The second part of the day put the students new skills to the test in a fun and interactive quiz with eight rounds of money related questions and conundrums. The money smarts challenge was very enjoyable and informative which will help the students to make better financial decisions and goals in the future.
| | |
| --- | --- |
| | |
Emer Cawley, Ava Dugan, Sorcha Peters Lynam, Orlaith Murray, Rachel Shannon, Anna Colgan, Holly Malone, Sarah Whelan, Roksana Segiet, Emer McDermot, Sarah Graham, Niamh Millward, Mr. James Patrice, Ms. Emer Ryan at the Money Smarts Challenge in the Seven Oaks Hotel last week.
Politics and Society
Members of the Senior Politics and Society Class collaborated with Senator Jennifer Murnane and members of An Garda Siochana to register any senior students who are eligible to vote before the next General election. The group worked together in the Cairdeas Library last Monday to ensure as many students were registered on the National Register of Electors. A sincere thanks to Ms. Karen Brennan who coordinated the event.
Cycle Against Suicide Awareness Day
Well done to the St. Leo's Cycle Against Suicide student committee who attended this year's CAS student congress in Citywest on Friday,17th January. It was a very interesting day with some memorable speakers and bands including Bob Charley, Evan Gorrell, Dudley Farrell, Alan Quinlan, United Vibes, Chasing Abbey and Redemption. This was a very inspiring event which should assist the team with lots of ideas for projects this term. Thank you to everyone involved and most particularly the committee's CAS coordinator, Ms. Vivienne O' Neill.
| | |
| --- | --- |
| The Cycle Against Suicide Committee at the CAS conference in the Citywest Hotel last week. | Former Rugby International, Alan Quinlan who spoke at the CAS conference in the Citywest Hotel last week. |
Musical Rehearsals
| | |
| --- | --- |
| Musical rehearsals for this year's Transition Year production are currently underway. This year's show "Back to the 80's" is once again a collaboration between St. Leo's College and St. Mary's Academy CBS. The cast are just beginning to settle into their rehearsal routine in preparation for the show which will take to the stage for three nights from 11th—13th March in the George Bernard Shaw Theatre. All of our Transition Year students will participate in a range of roles – leads, chorus, dancers, set painters, props etc. , The musical is always one of the highlights of Transition Year experience. Tickets are on sale at the Visual Theatre. | |
Climate Change
Transition Year Students from St. Leo's College attending a climate change conference in St. Patrick's College, Carlow.
Music Week
John Paul II Awards
Irish Ambassador to Belgium visits St. Leo's College
| | |
| --- | --- |
| On the 9th of January, a delegation from the Department of Foreign Affairs visited St. Leo's College. The Irish ambassador to Belgium, Ms. Helena Nolan accompanied by Past-pupil, Edith Delaney and Lieutenant Thomas Murphy visited the Politics and Society class to deliver a presentation focused on the 'Global Ireland Schools' programme. Ambassador Nolan presented members of the Politics and Society class with a copy of the United Nations charter and flag. The seminar was organised by Ms. Karen Brennan. | |
Junior Basketball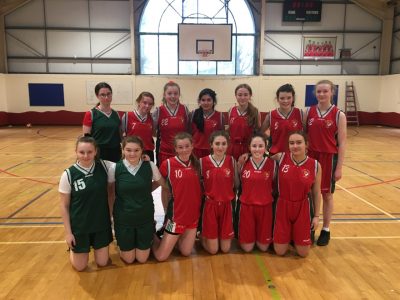 St. Leo's College First and Second Year Basketball teams played Gaelcholaiste Carlow in the college Gym last week. Both teams enjoyed brilliant victories against their opponents and now look forward to playing Colaiste Lorcain, Castledermot on Monday 27th January.
Junior basketball teams from St. Leo's College playing against Gael Cholaiste, Cearlach.
Hockey
The senior and First Year hockey teams played Loreto Wexford last Thursday 16th January in Enniscorthy. The senior girls won their game impressively with 3-0, with goals from Olwyn Lawlor (2) and Marla Hermann (1).  The Junior team played their first game of the South East League and held Loreto, Wexford to a 0-0 draw. There were some outstanding performances on the day, most notably by Clodagh Mahon, Anna Crosby, Ella Sullivan and Aisling Cawley.
Football
Congratulations to our very own Jade Nolan and Caoimhe Fitzpatrick, Sixth Year, who were recently selected for the Leinster Schools' Team. This is a huge achievement for both players. It can only be onwards and upwards for these two talented young ladies and best of luck for the forthcoming competition!
Volleyball
Well done to our Second Year Volleyball team who travelled to Mountrath. Co. Laois to take part in a number of friendly games last week. The girls played Mountrath Community School and Patrician Presentation Secondary School from Fethard, Co. Tipperary. Both teams were ably assisted on the day by our two Fifth Year coaches and their P.E. teacher, Ms. Vivienne Kelly. Well done to everyone involved.
Gaelic Football
St. Leo's College Senior Gaelic football team will contest in the Leinster Football final against Mercy Ballymahon, Longford on Friday the 31st of January at 11:30am in O'Connor Park Tullamore. The team has worked very hard over the last few months to claim their spot in the final.  The team would like to acknowledge the continued dedication and support of their management team, Natalie O' Carroll, Aisling Byrne, Martina Phelan and Caoimhe Simms .  A special thanks also to the team's physio, Claire McEvoy.
The Senior Football panel who will represent St. Leo's College in Tullamore, Co Offaly next week are:
Amy O' Shea Castlemitchell (Captain), Sara Kerfah Graiguecullen, Danielle Forbes Graiguecullen, Aine Fahy Benekerry/Tinryland, Georgina Donovan Graiguecullen, Jade Nolan Graiguecullen, Jasmin Brennan Dowling Eire Og, Niamh Phelan St. Brigid's (Vice Captain), Aine Lacey St. Brigid's, Aoife Gallagher St. Brigid's, Sara Doyle St Brigid's Colnmore, Caoimhe Fitzpatrick Graiguecullen, Eibhe Lawlor Old Leighlin , Ciara Mc Donald Killeshin, Kelly O' Neill Graiguecullen, Caoimhe Dunne St. Brigid's, Katie Collins-Byrne Graiguecullen,
Méabh Gallagher St. Brigid's, Caríosa Morahan Eire Og, Kate Wall St. Brigid's, Lucy Gaffney Killeshin, Emma Phelan St. Brigid's, Olwyn Lawlor Old Leighlin, Saoirse Byrne St. Brigid's , Aoibhinn Kelly Graiguecullen, Lorna Byrne St. Brigid's, Bronagh Nolan Eire Og, Hannah Dunphy Eire Og, Jasmine Kinsella Graiguecullen and Megan Kelly St. Brigid's.