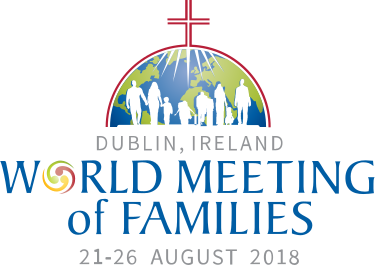 Earlier this year Ireland was specially chosen by Pope Francis to host the World Meeting of Families 2018, (WMoF2018). This event, which happens every 3 years, brings together families from around the world to pray, reflect and celebrate the role of family in our lives. The WMoF2018 is a six day Festival. This year's festival began with a simultaneous national opening in all dioceses in Ireland on Tuesday August 21st. The opening day was followed with three day workshops, exhibitions and talks running from the Wednesday to the Friday held in the RDS in Dublin. A special concert was then held at Croke Park to welcome Pope Francis for his two day visit to Ireland on Saturday August 25th. The WMoF2018 Festival concluded on Sunday August 26th with a special Papal Mass conducted by Pope Frances in the Phoenix Park.
The WMoF2018 and the visit of Pope Francis to Ireland attracted thousands of Irish and international pilgrims, couples and family groups to the Festival's numerous events. To organise such an event, the World Meeting of Families group called on the help and support of volunteers throughout the country to assist them in any way they could. A number of CEIST schools answered this call for the opportunity of a lifetime, a chance to say that in 2018 when the world's eyes were on Ireland they were there and they helped to organise a global event addressed by Pope Frances.
CEIST CEO Dr. Marie Griffin, at the inspiration of the CEIST team and school Principals, saw the Papal Visit as a marvellous opportunity to gather the family of CEIST schools from all around the county to express a shared sense of Catholic and School community. The opportunity to volunteer was offered to all students over 16 years of age in CEIST schools. CEIST then contacted the World Meeting of Families to express the interest of its schools to volunteer and invited them to speak at the CEIST Student Leader Conference in April 2018. This talk was provided by David Kennedy who informed all students that Ireland had been chosen by Pope Francis personally to host the next World Meeting of Families festival and he encouraged all students to volunteer for this event. An information stand was provided and members of the WMoF team remained at the conference to provide further information to any students or teachers interested in volunteering.
Several discussions followed between CEIST, CEIST Schools and the WMoF. A plan was formulated as to what the CEIST volunteers could do. It was decided that all CEIST volunteers were to attend the Papal mass on the Sunday and to act as stewards and umbrella bearers for all ministers of the Eucharist at the Mass.
To prepare CEIST volunteers for the mass WMoF provided training for everyone in the Phonix Park. On Saturday August 24th 1,500 student and leader volunteers travelled from all over the country to attend this training in Dublin for the Papal Mass. Leaders were teachers, parents and school staff. Three Dublin based CEIST schools kindly opened their doors to welcome all travelling CEIST schools to stay overnight in their buildings. Volunteers left home towns early on the Saturday morning to arrive in three host CEIST schools – St Joseph's College Lucan, Colaiste Bride Clondalkin and Our Lady of Mercy College Beaumont for Saturday lunch time. These host schools provided accommodation and food for the volunteers overnight on Saturday and Sunday breakfast. Volunteers – students and leaders slept on classroom floors and gym floors to be able to be present for the Mass. They were on duty from 6.00 a.m. on the Sunday morning. This is an incredible show of faith on behalf of so many young people across close to 50 CEIST schools.
Costs incurred by schools re travel were generously subsidised by both the Presentation & Mercy Sisters as were the costs borne by the three host schools in providing accommodation and food etc. over Saturday and Sunday morning. CEIST would like to thank the Presentation and Mercy sisters for their kindness in helping all volunteer schools attend the event.
CEIST would like to thank all volunteers and leaders who made the journey to Dublin last weekend and also the World Meeting of Families for providing training and guidance to all volunteers. We would especially like to thank St Joseph's College Lucan, Colaiste Bride Clondalkin and Our Lady of Mercy College Beaumont for hosting and welcoming these CEIST schools to their homes. This showed great generosity and kindness on their part to open their doors to welcome the wider CEIST community.
All leaders and students returned home late after the Mass on Sunday and back to school the following Monday no doubt tired but hugely energised from being part of such an exhilarating and historic event.
CEIST hopes to build on this sense of Catholic community and volunteerism in the future.
Video Montage
In order to share the magic of this event a video montage of photos and short videos taken from the weekend was created and shown at the CEIST Conference 2018. Click the link below to view this video.
Photos
All school photos have been added to the gallery below. We will update this gallery whenever new photos are received.